Arte
Una collezione di arti varie relative a KVIrc.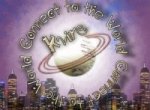 "Connect to the World" Splash Screens
Autore: SuSp|r|a
Data: 18.05.2005
Sei variazioni di colori per un bel tema simil fumetto per questi splash screen. Devi solo salvare l'immagine scelta come $HOME/.kvirc/pics/kvi_splash.png. Puoi anche usare questi splash come banner o come punto di partenza per la tua grafica.
---