Diseños
Una colección de diseños misceláneos, relacionados con KVIrc.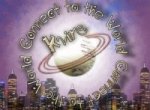 "Connect to the World" Splash Screens
Autor: SuSp|r|a
Fecha: 18.05.2005
Seis coloridas variaciones de un tema al estilo cómic, hechas para reemplazar la pantalla de inicio. Simplemente guarda la imagen elegida como $HOME/.kvirc/pics/kvi_splash.png. También puedes usar estas pantallas como banners o como un punto de inicio para tu propio diseño.
---